Steam-ex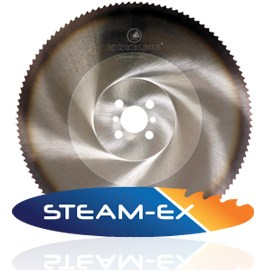 PVD Coated with double blade life compared to steam treated
A thin layer of high-tech coating protects the Steam-eX saw blade against wear on the sides. This ensures a long blade life, fewer blade changes and an improved surface finish.
Advantages:
Double blade life compared to steam treated blades
No side pick-up
Applications:
All materials like tubes, profiles and solids.
All structural steels and non-alloy steel with a tensile strength up to 700 N/mm2
Suggested cutting speed: 30 – 60 m/min
Machines: manual, semi-automatic
Typical application examples:
Material
Dimensions
(mm)
Cutting speed
(m/min)
Cutting time
(s)
Blade life
(cuts)
Blade life
(m2)
Tube
40 x 2,0
60
5,0
13,800
3,5
Tube
48 x 2,5
60
5,6
12,400
4,4
Industry cases Steam-eX vs Steam treated:

Available sizes:
Diameter
mm
Kerf
mm
Bore
mm
250
2,0
32
275
2,5
40
315
2,5
40
350
3,0
40

Recommended tooth forms:
Tooth form
Usage
HZ
Tooth pitch higher than 4 mm.
   
BW
Tooth pitch 4 mm or smaller.